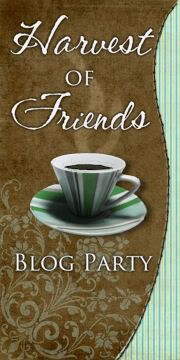 Lynnette Kraft is having another Blog Party!!!! These are so fun! This time around she offered some random questions for us to answer in hopes of getting to know each other better! I hope you will play along! Just head to her blog (click on the button) and link up with her!!!
1. What is your favorite thing to snack on while you're blogging?
I don't usually eat while blogging! I might grab a soda, though!

2. What is one thing you wouldn't want to live without?
Other than my family (which is a given) I won't wouldn't to live without my sense of sight.

3. Beach, Mountains or Farm? Where would you live if you had a choice?
Hmm....I think I would choose farm on the beach near the mountains! Can I do that?!?!

4. What's your least favorite chore/household duty?
I greatly dislike cleaning bathrooms. They just gross me out.

5. Who do people say you remind them of?
Well, when I was about 30lbs lighter they used to say Keri Russell. But not now!!!
6. Prefer parties and socializing or staying at home with the fam?
I prefer staying with the family - I guess I am kind of a home body! I am not really comfortable in most social situations!
7. What's your all time favorite movie?
I am not a movie person. I don't watch many movies and so don't have a favorite.
8. Do you sleep in your make up or remove it like a good girl every night?
It depends on the night! I would say I take it off about 60% of the time! Oops!
9. Do you have a hidden talent or a deep desire to learn something that you've never had a chance to learn? What is it?
Hidden talent? Not so much. But I really would like to know how to knit and crochet. My grandmother tried to teach me once, but I was so slow figuring it out and then I just got to busy to practice.
10. What's one strange thing you're really good at?
Hmm....I honestly can't think of anything.
11. What first attracted you to your spouse?
His smile! :) Definitely!! But a close second was his muscles! ;)
12. What is something you love to smell?
Coffee.....yum....

13. Tell something about you that you know irritates people.
Being a perfectionist and getting frustrated easily. My introverted personality - it makes me appear secretive and hard to get to know.
14. When you have extra money (HA!) what's the first thing you think to do with it?
Buy clothes, shoes, accessories for Kennedy!

15. Are you a silent laugher or a loud laugher? What makes you laugh the hardest?
I am in the middle for sure! Unless something is beyond hilarious, then I am loud and tend to snort!!! I think that Kennedy makes me laugh the most!
16. Where is your favorite place to shop?
I love going to consignment stores or thrift shops looking for deals and bargains!
17. What's one thing you'd do more often if you had more time?
I would exercise more.
18. Are you a big spender or frugal?
Jeff might say a big spender!! I would say I am in the middle - I love bargains, but I often buy too many bargains!
19. Who is your favorite character of all time (from a movie or book)? (Can't be real)
What?! I have no idea - I hate questions like this!

20. Would you want to be famous?
NEVER. EVER. NO WAY.